Treatments with a CO2 laser are characterized by a very successful healing process – there remain often no scars after treatments on the surface.
Less pain and fast cure with the C-Las.
This carbon-dioxide laser is an approved tool for an extremely fine cutting and removal of the histoid. The CO2 laser is securely established in all the specialist disciplines since many years. It is very welcome by many doctors in hospitals as well as in many outpatient clinics thanks to its reliability and versatility. C-Las is flexible.
Micromanipulator
The Micromanipulator can be adapted to almost all the microscopes of your choice. C-Las is innovative.
Simply good results
The latest technology which is represented in our CO2 laser allows a compact design. The location of the laser doesn't matter, on the table or on the trolley, the C-Las suits in every surgery room. This design shows a strong character. C-Las is precise.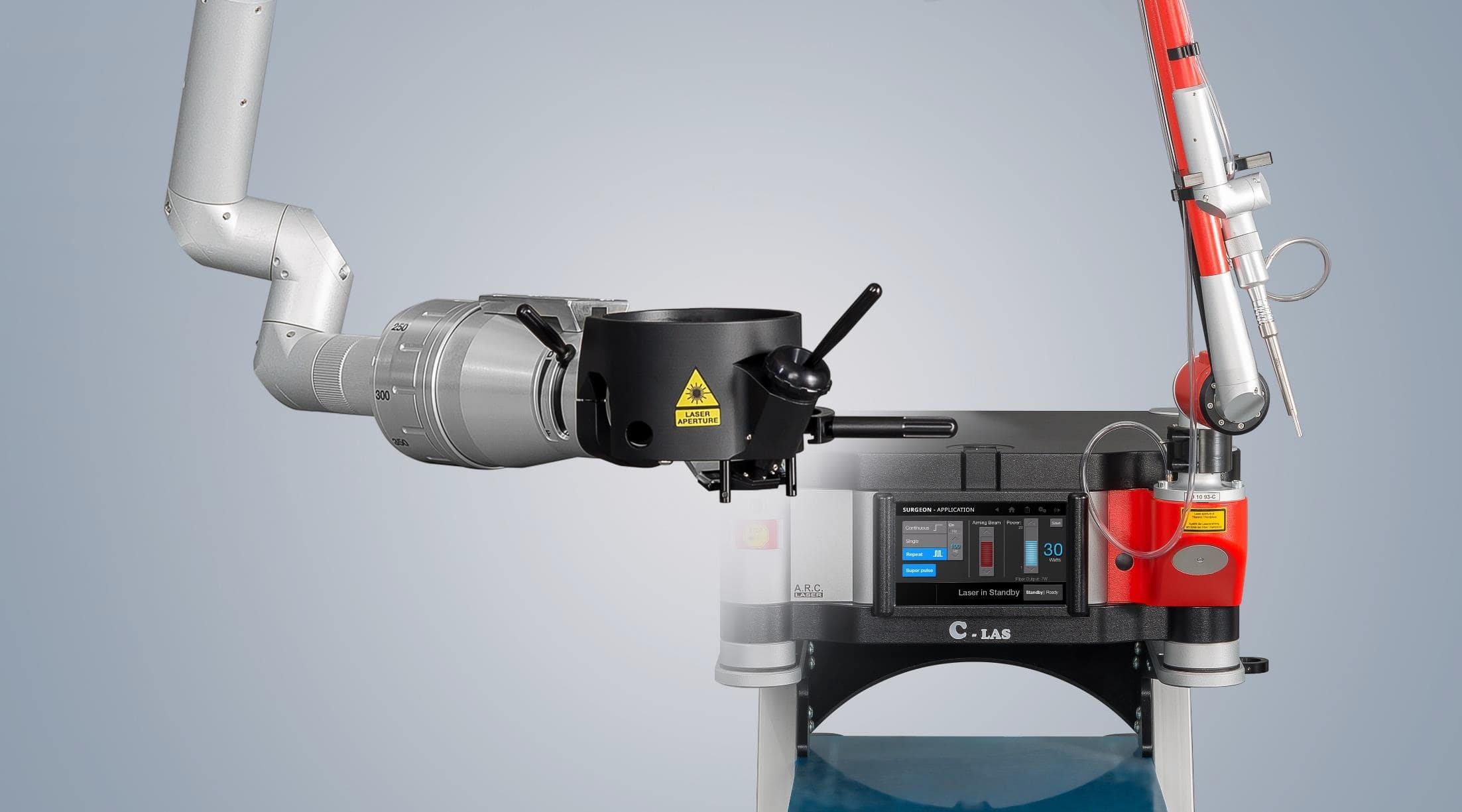 Indications ENT with Micromanipulator
 

Airway surgery (e.g. stenosis)

Cordectomy
Glottoplasty
Microflap Surgery
Partial Arytenoidectomy
Pharyngeal Pouch
Thyo-arytenoid myoneurectomy
Vocal Fold Surgery
Zenker's Diverticulum
Middle Ear Surgery
Stapes
LAUP
Oral Cancer Excision
Tonsillectomy
more information
Micromanipulator as an option

Precise cutting with a variety of handpieces

Weight 30 kg

Fast and easy access to all surgery programs
C-Las Articulated Arm
Ablation

Coagulation

Vaporization
The micromanipulator with achromatic optics in combination with internal mirrors. The color corrected coating of the beam splitter gives an ultra-vision at a high durability. This technology is the best in the world. The beam delivery system with a partial high reflector
achieves spot sizes as small as 100 μm. These unique features result in precise cutting with high aiming beam visibility.
With our micromanipulator you can scan the whole surgical field. Precision and maneuverability are the keys to its efficiency

The friction of the joystick is continuously variable

Hand rest for your comfort during longer surgery times
This design has set a new standard of excellence for CO2 laser spot size and precision in the medical field.