Laryngology
LACS – Laryngeal Anterior Commissure Stent 
This product is no longer manufactured, last stock is available, please contact us for availability.
The LACS – Laryngeal Anterior Commissure Stent – is a stent made of silicone for the prevention and treatment of glottic synechia (anterior glottic stenosis) or bridging. The stent is placed endoscopically into the anterior commissure of the larynx, to reduce contact between the vocal cords during the postoperative phase.
The LACS may be trimmed intraoperatively for an optimal fit and features a tubular section for an anchor suture. The device is supplied with 3.5 M (0 USP) non-absorbable nylon monofilament suture material pre-inserted in the tubular section and a silicone suture button for skin protection. The LACS should be removed after 3, three to 4, four weeks
This product is CE approved and not available for sale in the USA.
Intended Use
For the prevention and treatment of laryngeal glottic synechia (anterior glottic stenosis). For single use.
Features
Implant-grade silicone
Non-adherent smooth surface
Can be trimmed to required size
included
1 LACS with non-absorbable suture thread
1 Suture Button
1 IFU
| | | | |
| --- | --- | --- | --- |
| REF | A | B | Thickness  |
| 323070 | 50 mm | 40 mm | 0.4 mm |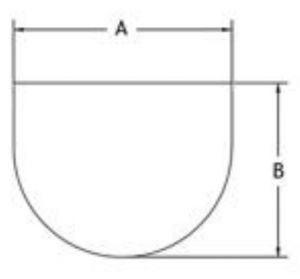 The ordering information, including possible assortment of different sizes and materials, reference number and items per box, can be found on the desktop website. 
Other Laryngology  Products