Head & Neck | Laryngeal and Esophageal Products
Montgomery® Laryngeal Stent
This product is no longer manufactured, limited stock available, please contact us for stock update.
The Montgomery Laryngeal Stent is a silicone prosthesis which is molded and designed to adapt to the normal endolaryngeal surface. The stent is manufactured of radiopaque implant-grade silicone that is stiff enough to hold the endolarynx post-surgery. It is also soft and flexible enough to secure a good fit and it makes sure a minimum injury to soft tissues.
The stent can be used as a direct support for intralaryngeal mucosal or dermal grafts to uncovered areas of the endolarynx. Each Montgomery® Laryngeal Stent is packaged with two silicone suture buttons to support the stent externally.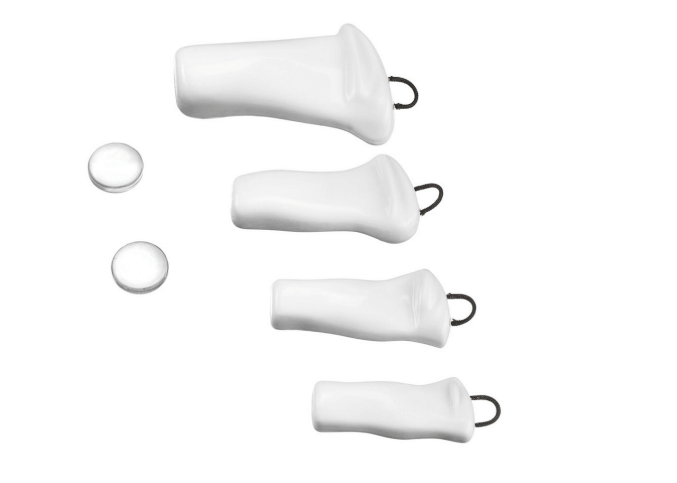 Intended Use
For the treatment and prevention of laryngeal stenosis when the glottic stenosis involves the midglottis, posterior glottis, supraglottis, and subglottis, singularly or in combination.
Features
Implant-grade silicone
Non-adherent smooth surface
Integral removal loop
Radiopaque material
Ordering Information
Supplied:
Sterile
For single use
1 Stent, 2 Suture Buttons, 1 IFU per carton
Size

REF

Dimensions (mm)

REF

A

B

C

Stent Buttons (pair)

Child

323010

33

10

9

323011

Small Adult

323020

37

10

11

Medium Adult

323025

40

12

10

Large Adult

323030

47

15

16

Additional Stent Buttons pairs are available, non-sterile (REF: 323011).
The ordering information, including possible assortment of different sizes and materials, reference number and items per box, can be found on the desktop website. 
Other Head & Neck Products