HEAD & NECK | Montgomery® Tracheal Cannula System
Montgomery® Long-Term Cannula
The patented Montgomery Long-Term Cannula is the result of many years of clinical research and design. Used to replace either the Short-Term Cannula or a standard tracheostomy tube, the cannula features a 27°-angled flange to ensure that the tube rests horizontally when seated in the trachea – nothing protrudes into the trachea. Made from flexible Implant grade silicone, the tube has a highly polished surface that permits and encourages growth of epithelium between the trachea and the skin. Once inserted, a ring washer is applied, ensuring patient safety. The tube can be trimmed to a low profile. A dual-purpose groove along the axis of the tube rests in the "6 o'clock" position for orientation and serves as a drainage vent. Long-Term Cannula diameters correspond to standard tracheostomy tube sizes 4, 6, 8, and 10. The stoma length in millimeters is measured along the inferior aspect of the stoma from the anterior tracheal wall to the outside skin. These measurements are made easily using the STOMEASURE™. There are 24 sizes of Long-Term Cannula to choose from. Each Long-Term Cannula includes the tube, two plug/ring sets, and product information. Also available are 15mm adaptors and additional plug/ring sets. Refer to chart below for corresponding product codes.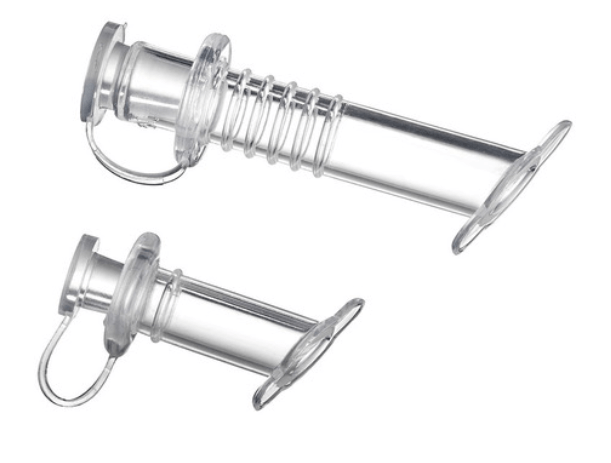 features
No tube projecting into the trachea

Angled internal flange for proper positioning

Easy-to-clean and maintain

Flexible implant-grade silicone

Safety ring and groove system

Length can be trimmed to any neck size
intended use
To provide a secondary airway and to take the place of a standard tracheostomy tube (standard tracheal cannula) or a Montgomery® Short-Term Cannula in order to establish a long-term tracheostoma.
supplied
Sterile
For single patient use
1 cannula, 2 plug/ring sets, 1 IFU, 1 Patient Pak™ per carton
Size
Dimensions (mm)
REF


for the following stoma lengths (dimension "c" in mm)

REF

A

B

17-25

25-33

33-41

41-49

49-57

57-65

Plug/Ring Set

15 mm Adaptor

4

9

37

330425

330433

330441

330449

330457

330465

310406

310404

6

11

37

330625

330633

330641

330649

330657

330665

310606

310604

8

12

37

330825

330833

330841

330849

330857

330865

310806

310804

10

13

37

331025

331033

331041

331049

331057

331065

311006

311004
The ordering information, including possible assortment of different sizes and materials, reference number and items per box, can be found on the desktop website. 
Other Head & Neck  Products