LASER
TruBlue 445nm A.R.C. Laser
The WOLF TruBlue 445nm Laser is a Blue Light Laser which combines the best lasers out of both worlds. The smallest 'KTP + CO 2 ' – like laser unit for coagulation, vaporisation and bloodless surgery, with all benefits of a razor-sharp scalpel inside an extremely flexible glass fiber. This laser is a portable, fiber guided laser system, specially designed for various ENT applications.
The laser wavelength of the TruBlue laser has a high absorption in haemoglobin and pigment (melanin), 10x higher than a KTP laser. The TruBlue laser is also transparent in water, like the KTP.
Therefore, the TruBlue laser has also the photo-angiolytic effect for among others:
Laryngology treatments of Papillomas, Vascular Ectasia, Leukoplakia, Reinke's Edema, Early cancer, etc.
Otology: Hemostasis, Stapes Crura, Stapes Prosthesis, Glomus Tumor.
Rhinology: Capillary Ectasia, Osler-Weber disease, Turbinate reduction.
Furthermore, the TruBlue laser has the possibility to cut like a CO 2  laser; non-contact with a very low necrosis zone beside the cut. The TruBlue laser has a glass-fiber core and with a Helium-flow system you can use the laser like a fiber guided CO 2 lasers.
Fiber
All fibers have a patented plug-and-play connection and are available in diameter of 300/400/600 µm. The fibers can be used with a handpiece and different cannulas, in flexible or rigid endoscopes for outpatient or clinical use. We also offer sterile and single use probes for Otology e.g. stapes surgery. The WOLF truly stands apart from the industry in terms of design and craftsmanship. Through use of unique materials and cooling technology, the laser unit is a fraction of the
size and weight of other lasers on the market, providing an  unparalleled level of flexibility in setup within the OR, clinic or office.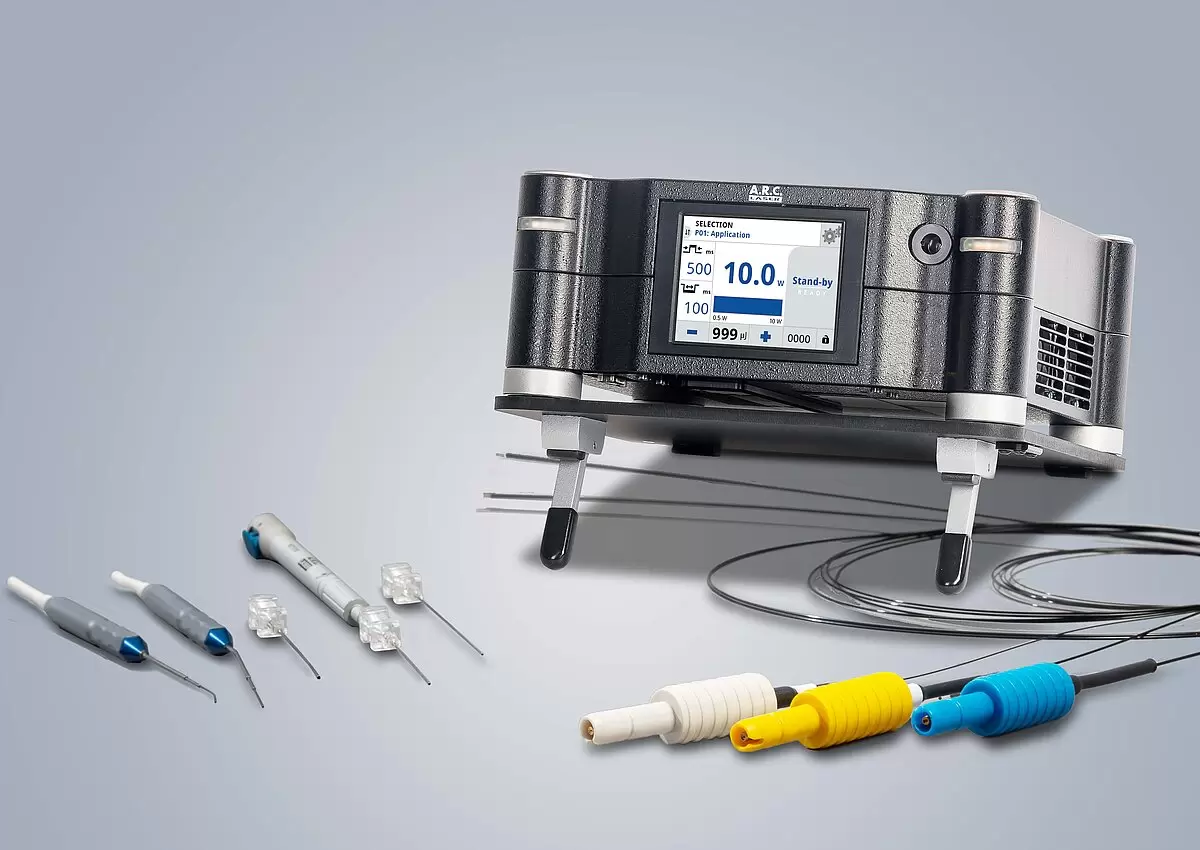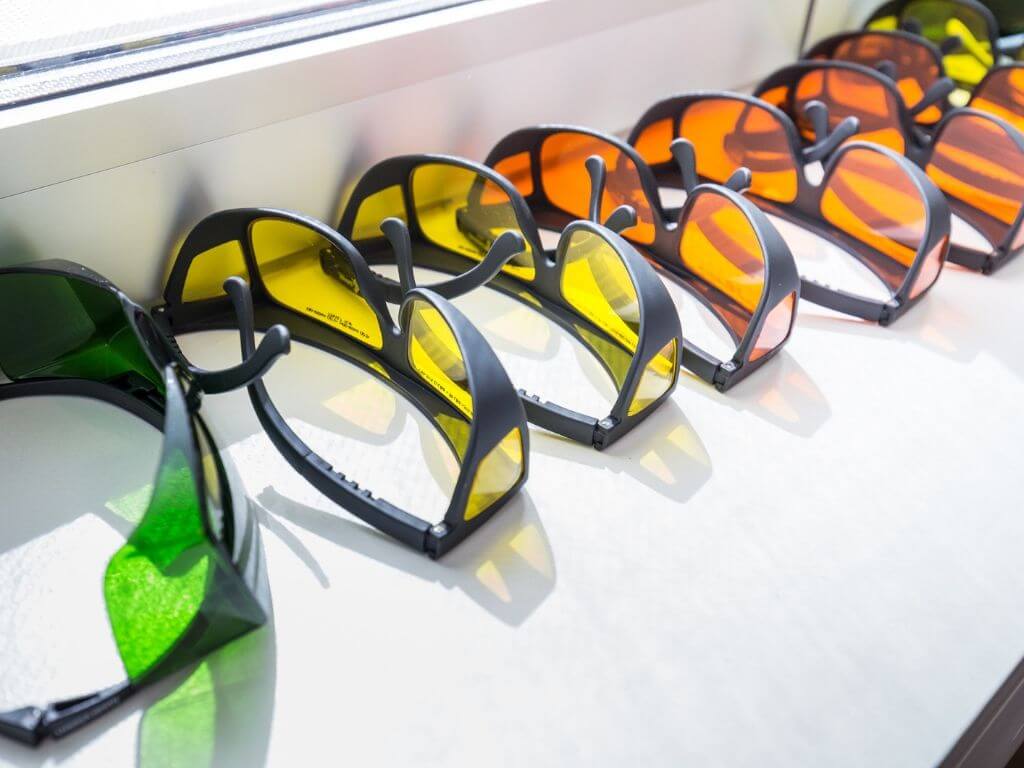 indications
Recurrent Respiratory Papillomatosis, RRP
Polypectomy in the area of Vocal Ligaments
Microsurgery of Vocal Folds and Cords
Dysplasia removal
Hemangioma & Ectasia coagulation
Reinke's oedema
Stapes surgery
Glomus Tympanicum
The WOLF TruBlue Laser is CE cleared.
Curious about the WOLF TruBlue Laser?
Advertorial WOLF 445nm TruBlue, 
by A.R.C. Laser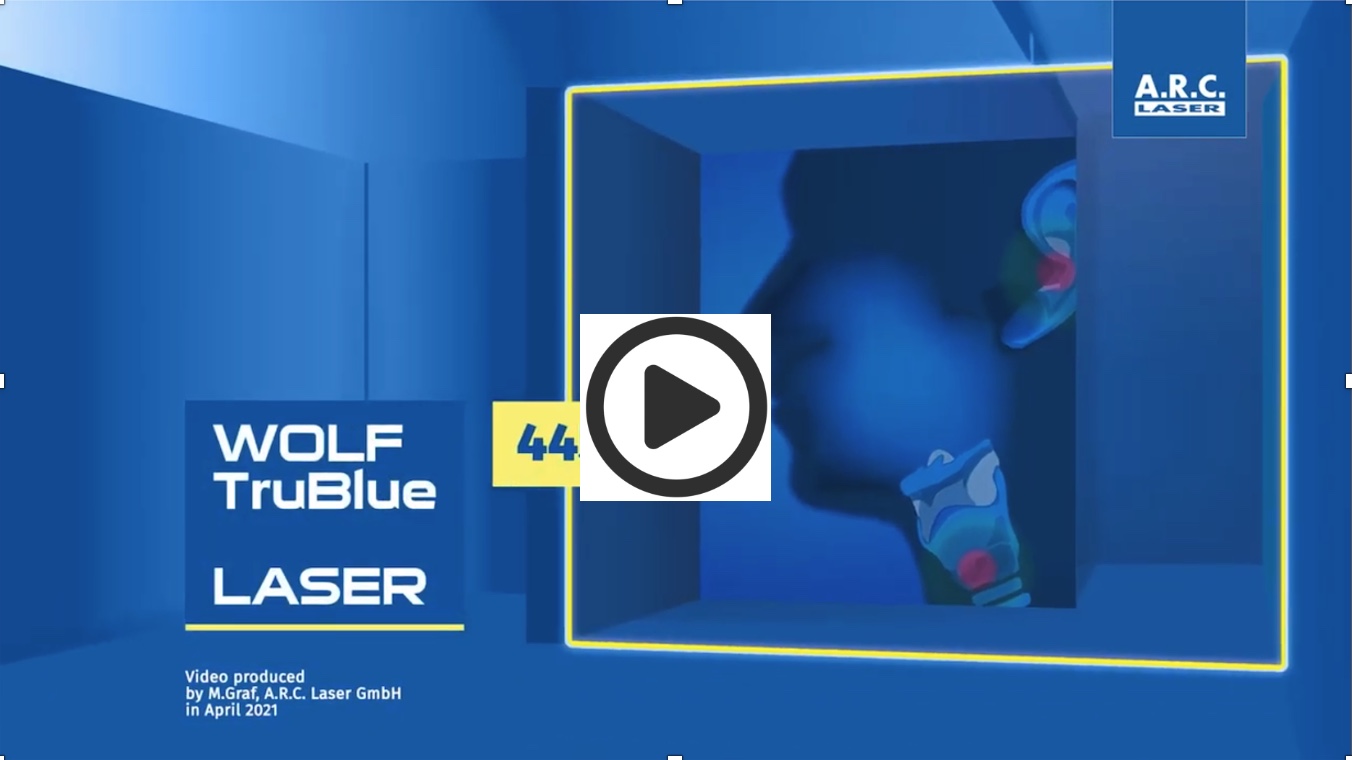 Video Retention Cyst & Aryreduction with Wolf 445nm TruBlue, by A.R.C. Laser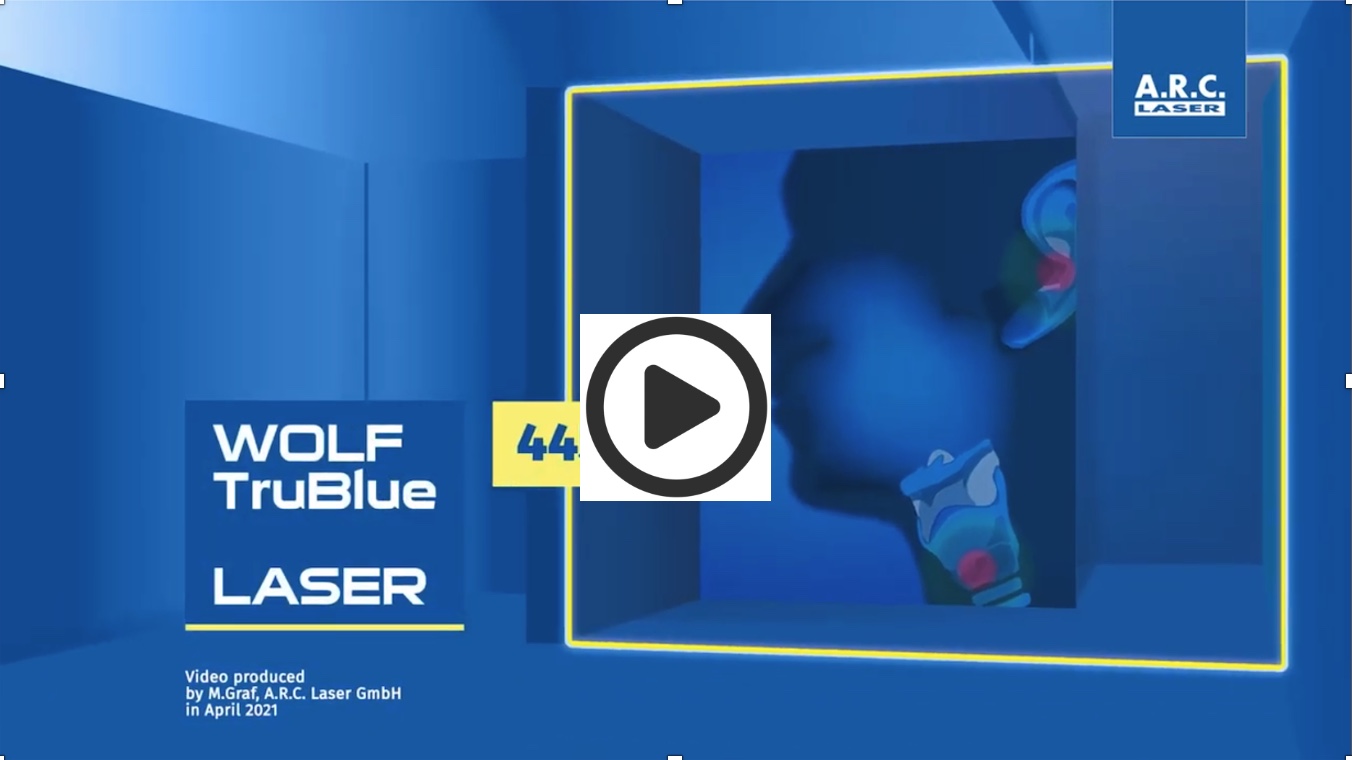 Video Infant Supraglottoplast with WOLF 445nm TruBlue,
by A.R.C. Laser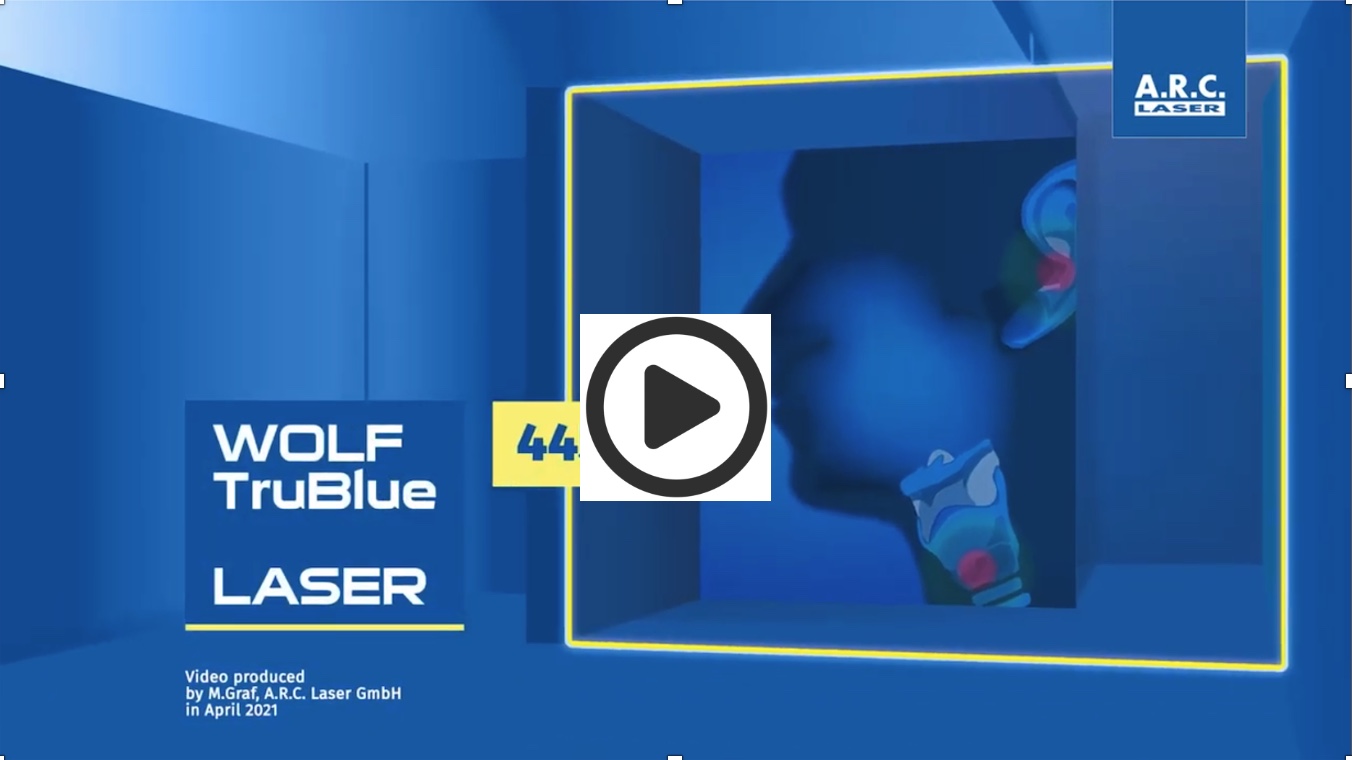 Video Oral cavity cancer & cystic lesion with WOLF 445nm TruBlue, by A.R.C. Laser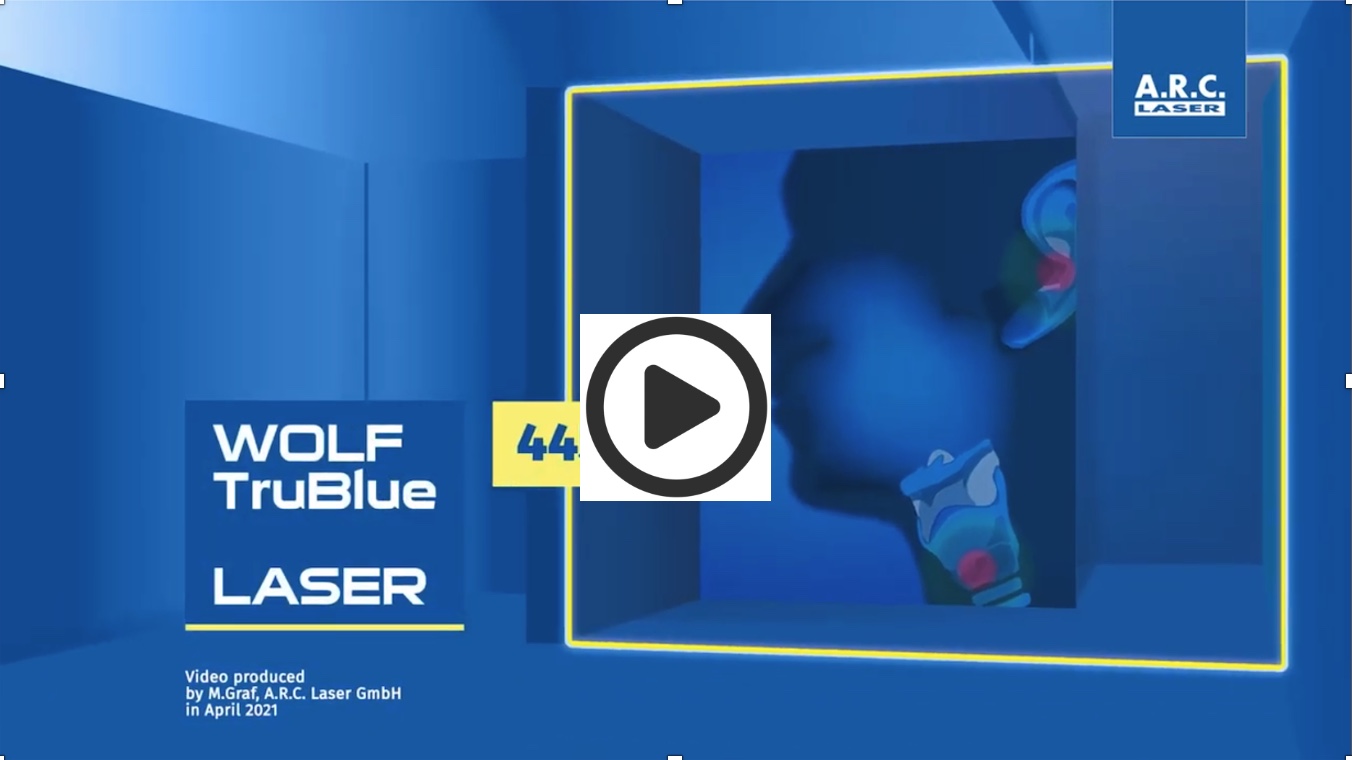 Video Pre-OP, Laser treatment, 2 and 10 weeks Post-OP Reinkes Oedema Source: Prof Hans Mahieu, Ruysdael Clinics Amsterdam, NL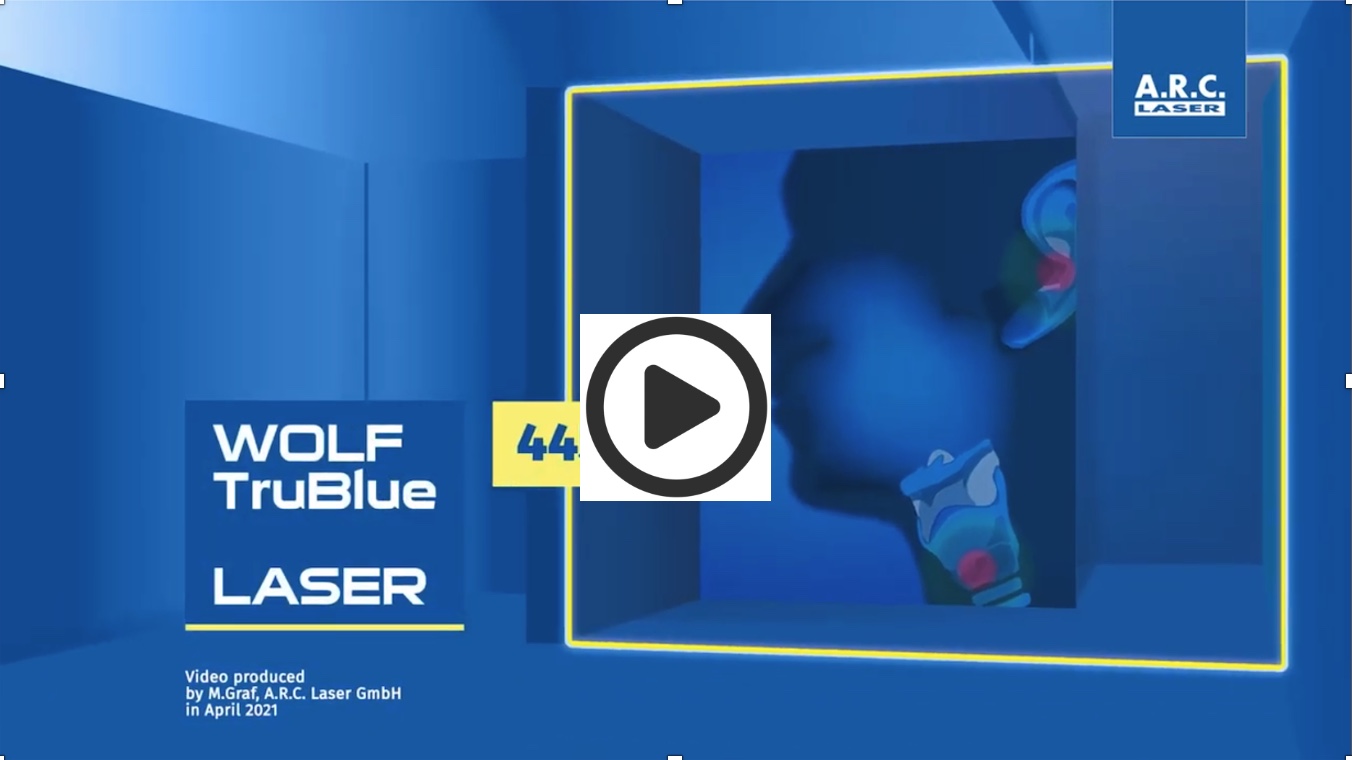 Video Pre-OP, Laser treatment, 5 weeks, 6 months Post-OP Reinkes Oedema. Source: Prof Hans Mahieu, Ruysdael Clinics Amsterdam, NL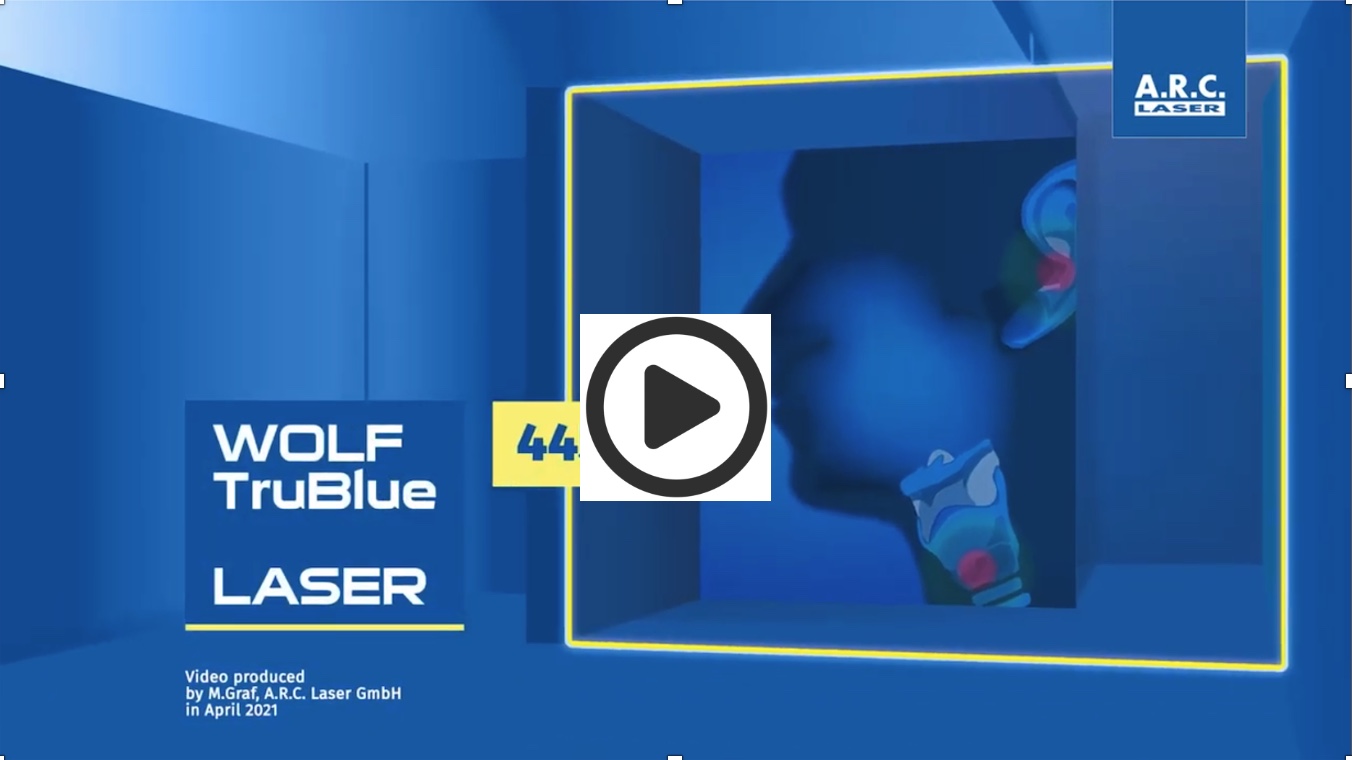 Video Vocal cord papillomatosis (RRP) with Wolf 445nm TruBlue, by A.R.C. Laser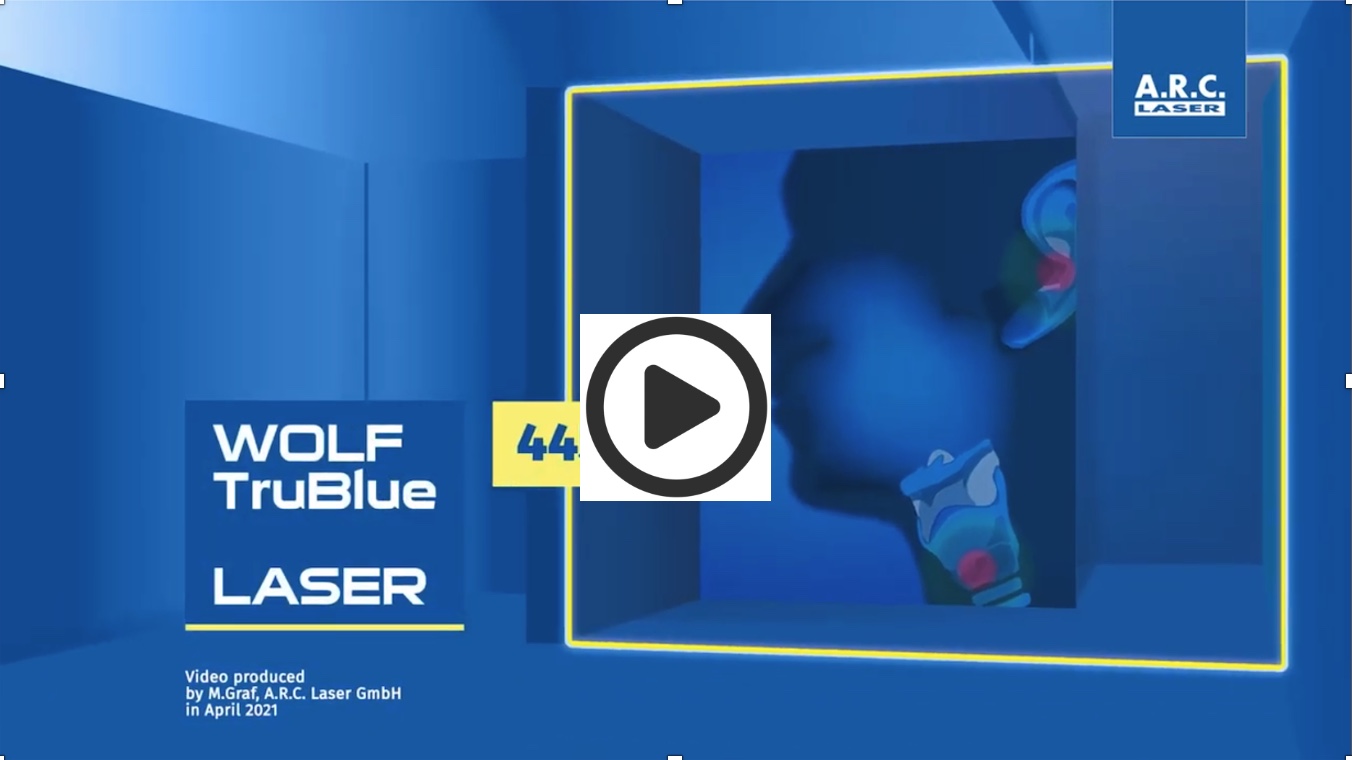 Video Posterior laryngeal stenosis with WOLF 445nm TruBlue, by A.R.C. Laser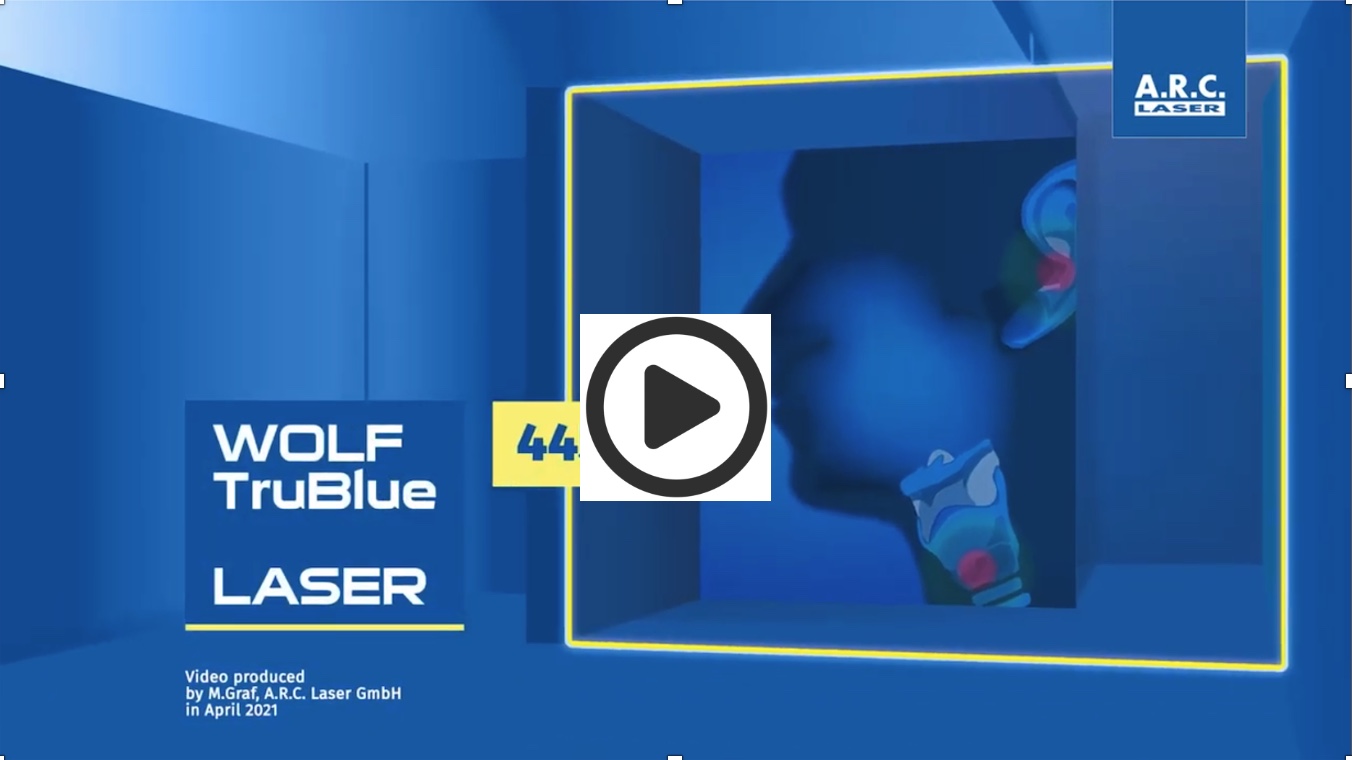 Video TruBlue Laser 445nm 1) RRP 2) Vascular Ectasia 3) Synechia 4) Cyst 5) Cutting by A.R.C. Laser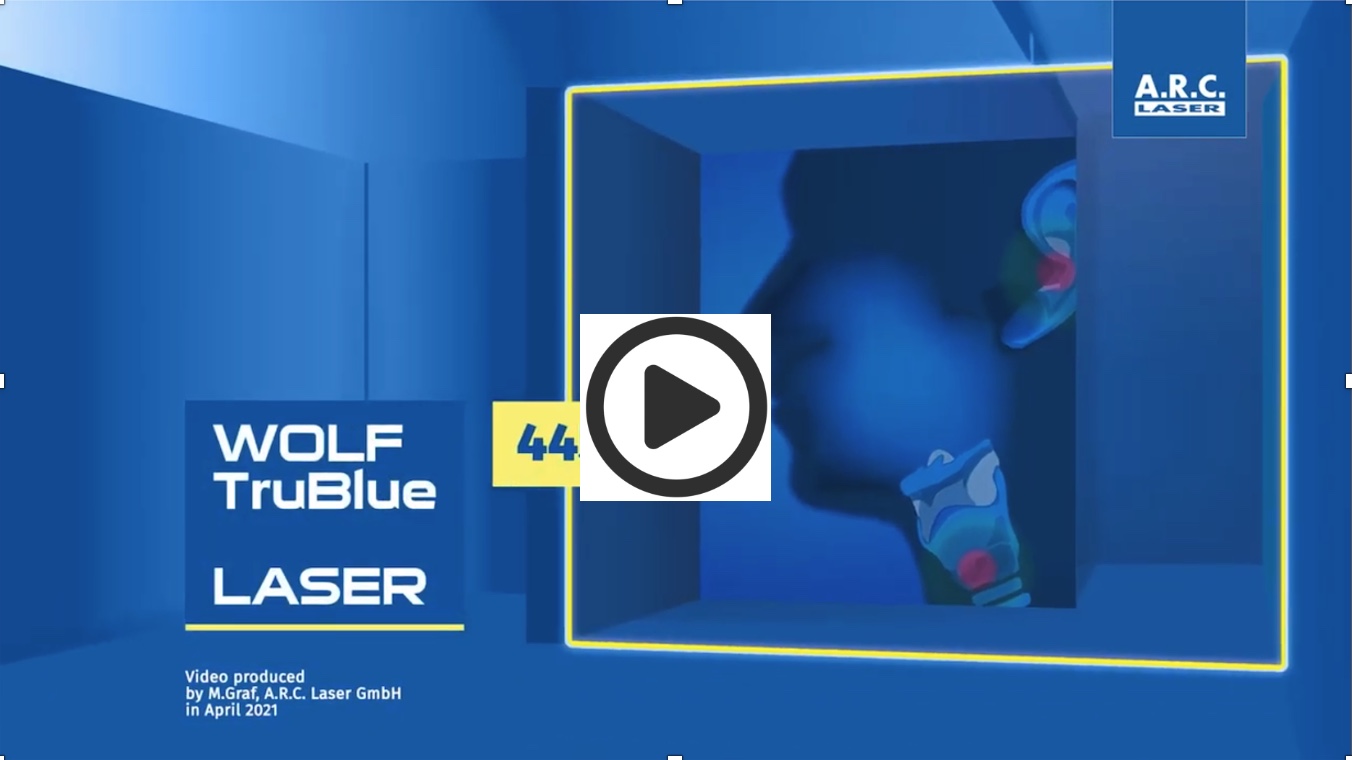 Video Resection of vocal cord carcinomas with the fiber guided WOLF TruBlue Laser 445nm, by A.R.C. Laser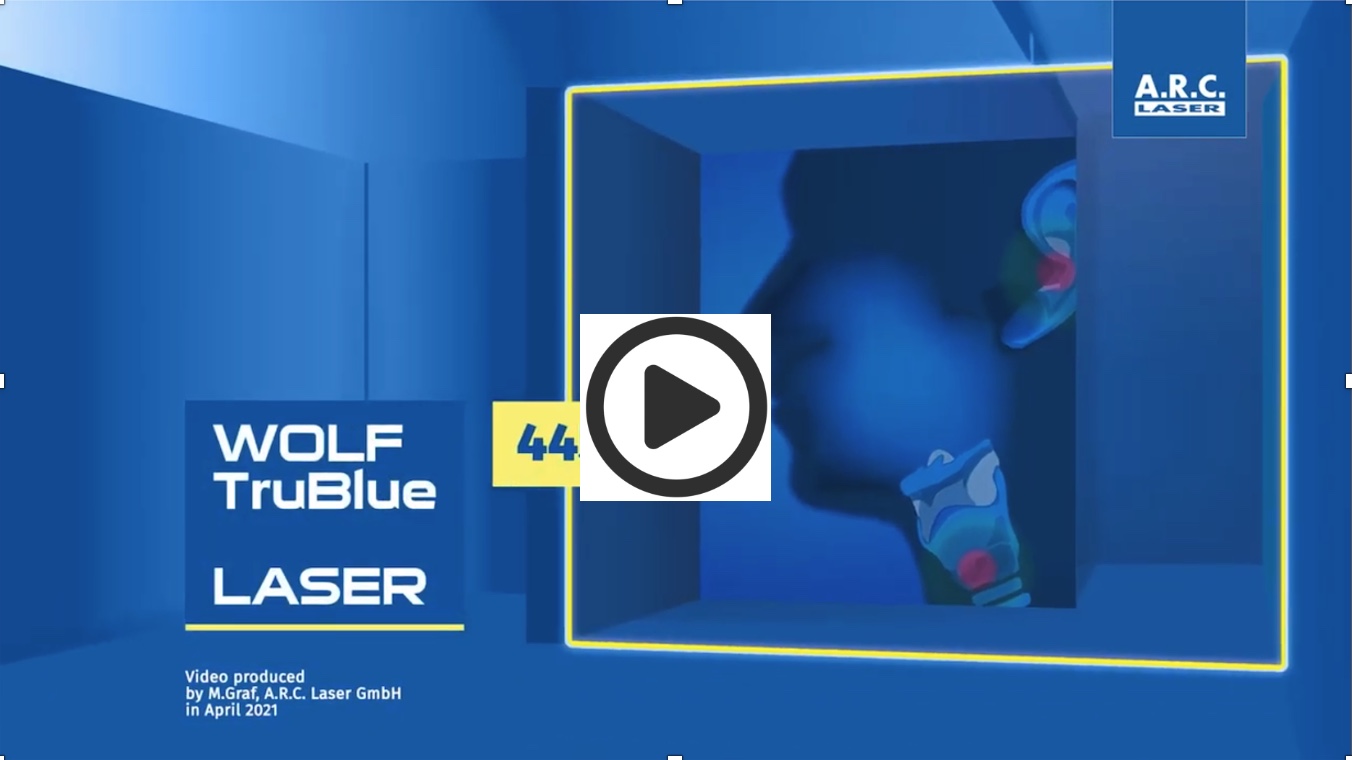 Video PHONOSURGERY with Wolf 445nm TruBlue, by A.R.C. Laser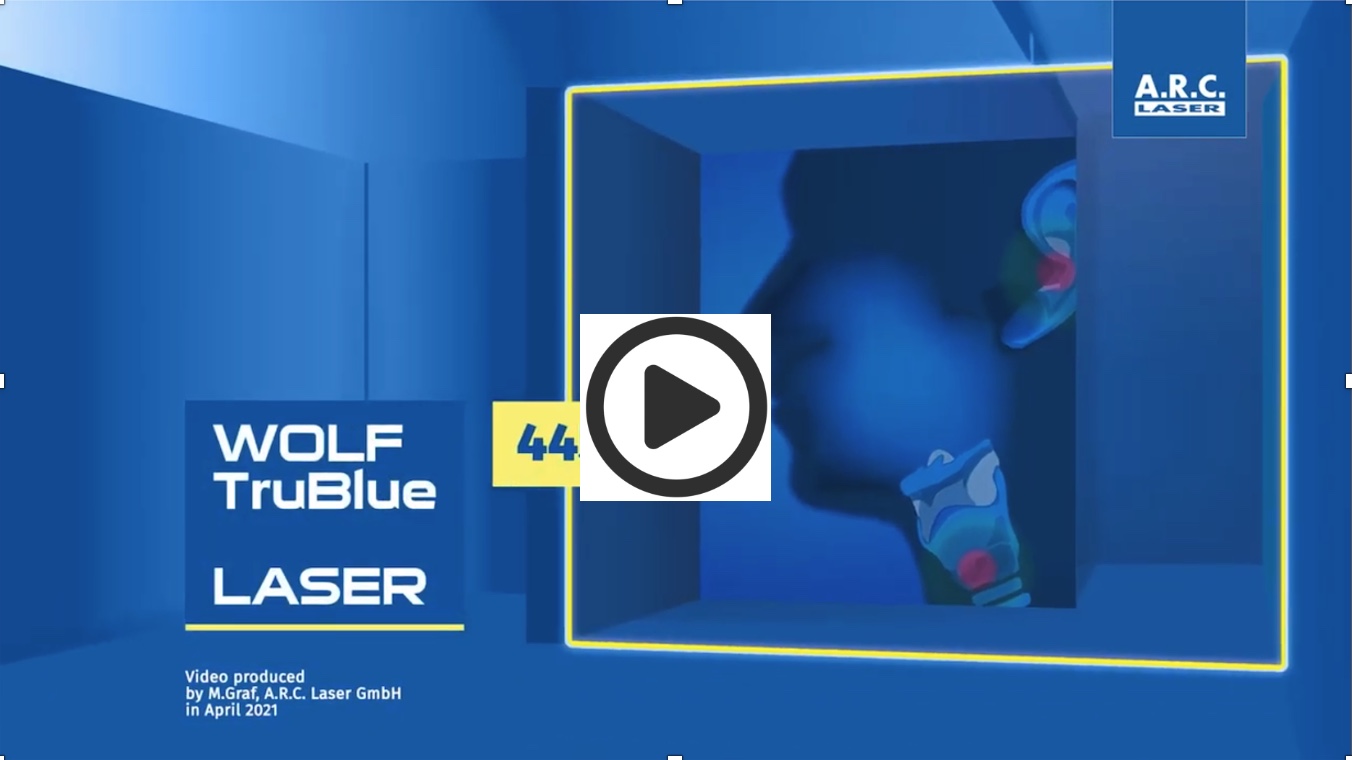 Video Pre-OP, Laser treatment, < 1 and 6 weeks Post-OP Reinkes Oedema. Source: Prof Hans Mahieu, Ruysdael Clinics Amsterdam, NL