laryngology
Restech® pH test
The only minimally invasive reflux testing system for use in the oropharynx. The first and only medical sensor able to measure and chart real-time, continuous pH in both liquid and aerosolized states, revealing reflux-related etiology of presenting symptoms
(e.g. chronic cough, hoarseness, throat clearing, and globus).

The Restech pH system is the only minimally invasive, in-office, outpatient test, a simple, reliable solution to assess reflux in your patients. It does not require anesthesia, insertion deep into the esophagus, or any additional placement procedures.

Restech's pH sensor is unique in its ability to accurately function anywhere in the aerodigestive tract (from the esophagus to the nasopharynx) reporting precise values of both liquid and aerosol (vapor) from pH 1–10. Bench testing at Vanderbilt University revealed time to reach equilibrium pH (seconds) was significantly faster (P < 0.001) with Restech's oropharyngeal probe than the conventional probe in both liquid AND vapor phases.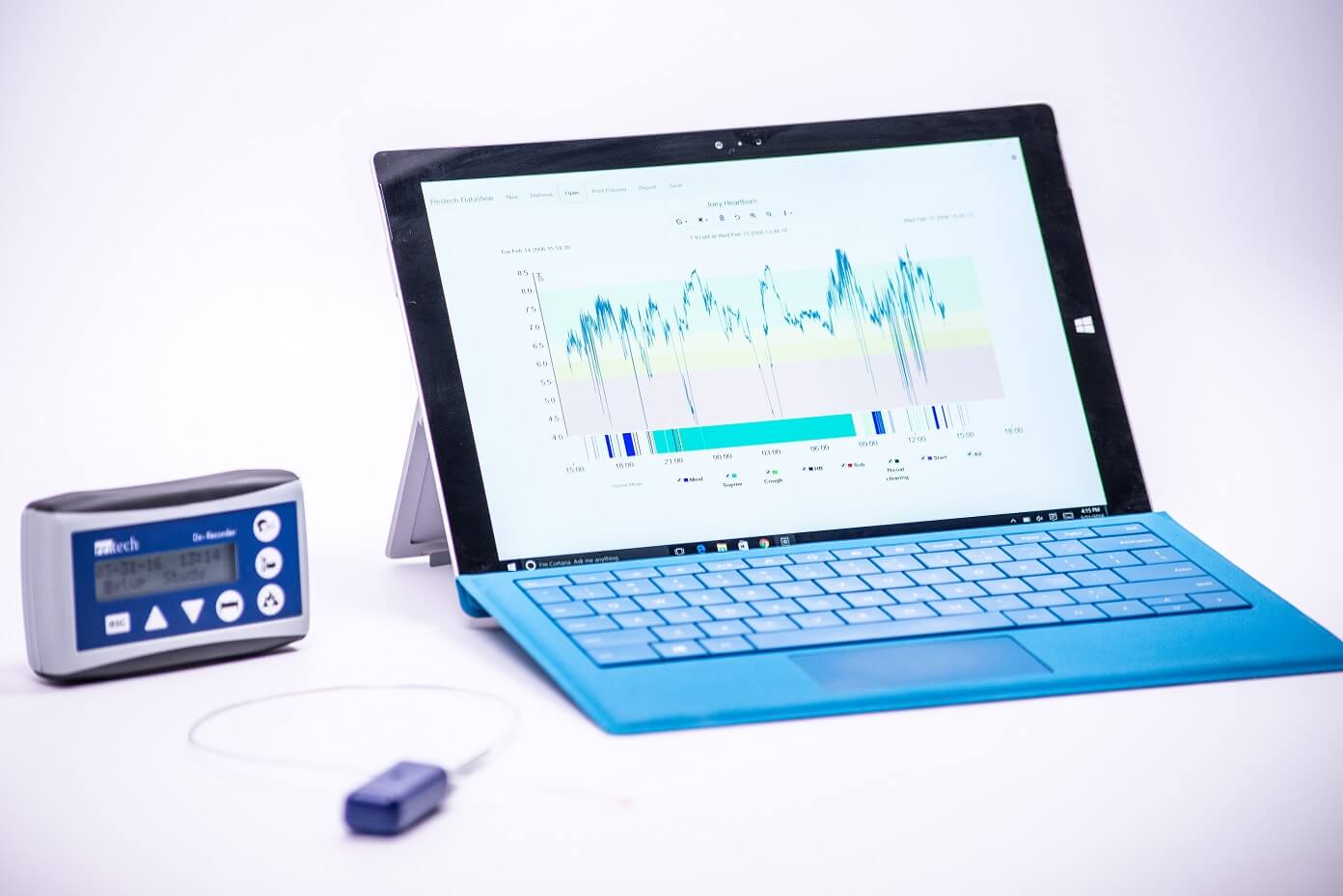 Restech's in-office reflux test
Can identify patients overlooked by conventional pH monitoring:
The Dx-pH sensor records the pH of aerosolized material in the oropharynx. Other products lack the proprietary technology to measure aerosolized particulates, consequently missing critical data points and possibly resulting in false negative studies.
The esophageal DeMeester and oropharyngeal RYAN Scores differ in their
thresholds. Patients with extraesophageal symptoms can receive a negative esophageal pH study, but when tested by the Dx-pH System, the study could be
positive.
The upper airway is more sensitive to enzymes and acids produced in the stomach than the esophagus, meaning that smaller volumes can cause tissue damage and symptoms.
Reflux Diagnostics: Dx-pH System
Giving you the data, you need to deliver targeted, individualized reflux therapy.
Obtain a definitive diagnosis in 24 hours
Displays detailed graphs and charts to illustrate the patient's reflux patterns and severity
Offer a minimally invasive diagnostic test with increased patient comfort
Examine the patient's typical day, it doesn't interfere normal activities
Clarify diagnostic and therapeutic pathways
Provide a baseline for future comparison
Explore alternative etiologies after a negative study
How It Works
1. The pH probe is placed trans-nasally until the tip is just behind the uvula, high
enough as to maintain maximum patient comfort. There is no need for anesthesia or any additional placement procedures.
2. During the 24-hour study, the probe takes a pH reading every ½ second, while the patient inputs pertinent information such as symptoms, meals, and supine periods.
3. Our DataView software program delivers the results in a simple, 1-page report format including a detailed graph, various statistics, and a proprietary RYAN Score.
Other Laryngology  Products